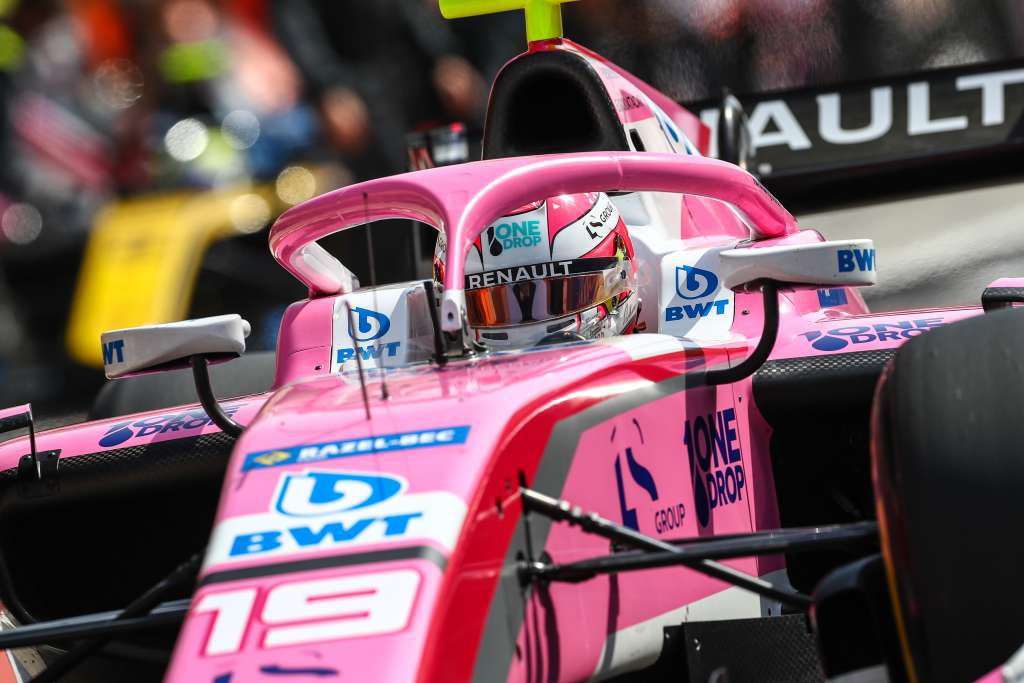 © Dutch Photo Agency
A good start
Anthoine's beginnings in Formula 2 took place under the hot sun of Bahrain over the past weekend. The 22-year-old Frenchman showed his remarkable ability to adapt and solve the Bahrain equation by managing several new things such as: a new circuit, new team, an intense heat which, combined with the sand made the circuit very abrasive and a mandatory pit stop in the 'feature' race.
After rounding out free practice in 13th, Anthoine finished qualifying in 11th place, dominating his first point of reference, teammate Tatiana Calderon, by 8 places and 1.2 seconds. These two added places in qualifying enabled him to position his pink car on the inside of row 6 on the starting grid, making him the second-best rookie behind Mick Schumacher in 10th.
"11th place was very satisfying for me, especially since we had the potential to do even better. Indeed, after tense winter testing, we didn't even think we could fight for a place in the top 10".
Free practice
| | | |
| --- | --- | --- |
| | 1. | Sérgio Sette Câmara (DAMS) 1:43.618 |
| | 2. | Nicholas Latifi (DAMS) 1:43.912 |
| | | ... |
| | 13. | Anthoine Hubert (HWA Arden) 1:44.834 |
Qualifying
| | | |
| --- | --- | --- |
| | 1. | Luca Ghiotto (UNI-Virtuosi Racing) 1:40.504 |
| | 2. | Louis Delétraz (Carlin) 1:40.871 |
| | 3. | Nyck De Vries (ART Grand Prix) 1:40.889 |
| | | ... |
| | 11. | Anthoine Hubert (HWA Arden) 1:41.596 |
At the foot of the podium
When the lights went out, Anthoine's reaction time and a good outside trajectory allowed him to go into the first corner in 7th place. He then found the right balance between being aggressive enough and managing his tires in order to make his mandatory pit stop soon after the halfway mark when he was up into 3rd place. Returning to the track in 8th, Anthoine started the second phase of his comeback with a splendid maneuver that allowed him to overtake two experienced opponents in the one move, Delétraz and Matsushita. A lap later, he passed De Vries and worked his way up to take the checkered flag in 4th place, less than three seconds from 3rd and becoming the best rookie of the event, ahead of Mick Schumacher (8th) and Zhou (10th).
"In the race, everything came together really well! The start was the key factor in my good result. By making up 4 places immediately, I managed my tires well before the pit stop. That said however, my radio didn't work and, before the race, the team had told me that the only thing I had to do was to listen to the instructions from my engineer about my pace! So I used my experience to do the best I could and it worked very well. After the pit stop, I was able to increase my pace further and climb up through the field. The double pass on Matsushita and Delétraz? It was bliss! I was much faster than them and it seemed almost too easy. 4th place is a good result even if I had the potential to aim for the podium, so it's a little frustrating".
Race 1
| | | |
| --- | --- | --- |
| | 1. | Nicholas Latifi (DAMS) |
| | 2. | Luca Ghiotto (UNI-Virtuosi Racing) +8.744 |
| | 3. | Sérgio Sette Câmara (DAMS) +14.826 |
| | 4. | Anthoine Hubert (HWA Arden) +17.273 |
At the door of the points
Starting fifth at the start of the sprint race, Anthoine had great ambitions for his second Formula 2 race. But unlike the day before where he made up places, the young Frenchman lost several spots at the start. Brilliantly fighting his way back to 5th place, he then had to change tires. This maneuver, that took place late in the race, dropped him down the order to 17th place with only 8 laps remaining. From there Anthoine fought his way back through the pack to finish in 9th place, at the door of the points.
"The loss of several places at the start cost me dearly because I had to overwork the tires for 2 or 3 laps. Suddenly, halfway through my tires were suffering and we chose to do a pit stop. But it was already late in the race and I ran out of time to get back into the points. It's a shame because I think we could have fought for 6th place. But finishing 9th in a bad race is very encouraging! We must remain humble and work hard to improve our weaknesses and be constantly at the forefront. We have a good base, we must make sure we get the best out of our package and use all our potential at every race".
Race 2
| | | |
| --- | --- | --- |
| | 1. | Luca Ghiotto (UNI-Virtuosi Racing) |
| | 2. | Sérgio Sette Câmara (DAMS) +5.474 |
| | 3. | Nicholas Latifi (DAMS) +6.867 |
| | | ... |
| | 9. | Anthoine Hubert (HWA Arden) +30.514 |
Championship
| | | |
| --- | --- | --- |
| | 1. | Luca Ghiotto 37 |
| | 2. | Nicholas Latifi 35 |
| | 3. | Sérgio Sette Câmara 27 |
| | 4. | Louis Delétraz 16 |
| | 5. | Anthoine Hubert 12 |