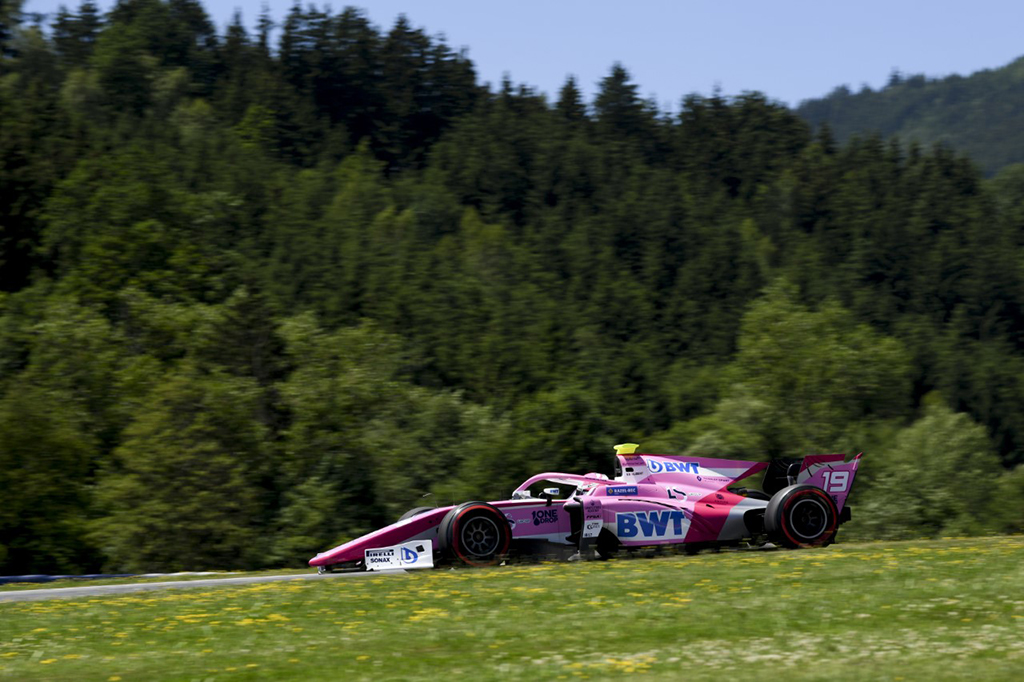 © Dutch Photo Agency
In the fight for pole position
The Tom Thumb (Tom Thumb is a character in a children's story, a very small character. Isn't that what you were chasing?) of the 2019 Formula 2 championship took a giant leap on the Red Bull Ring circuit where the Formula 1 feeder series played out the 6th of their 12-race weekend schedule. Anthoine worked hard and finally fulfilled one of his shortcomings by mixing in with the fight for pole position. Among the ogres of the championship, Anthoine put on his seven-league boots to record a brilliant 2nd fastest time, using a daring strategy that paid off.
« I knew that we had not shown all our potential in free practice and I knew I could be in the top 10 in qualifying ... but not 2nd! My first attempt put me in 4th place. So, we tried to do a second run when nobody was on the track to avoid traffic on this small circuit and it paid off! The hardest thing was afterwards: I spent the last ten minutes out of the car, watching what the others were doing, crossing my fingers that I would keep 2nd place! It was a real pleasure because qualifying has been one of our weak points so far ».
Free practice
| | | |
| --- | --- | --- |
| | 1. | Louis Delétraz (Carlin) 1:14.782 |
| | 2. | Nyck De Vries (ART Grand Prix) 1:14.840 |
| | 3. | Luca Ghiotto (UNI-Virtuosi Racing) 1:14.869 |
| | | ... |
| | 15. | Anthoine Hubert (HWA Arden) 1:15.714 |
Qualifying
| | | |
| --- | --- | --- |
| | 1. | Nyck De Vries (ART Grand Prix) 1:14.143 |
| | 2. | Anthoine Hubert (HWA Arden) 1:14.309 |
| | 3. | Guan Yu Zhou (UNI-Virtuosi Racing) 1:14.371 |
Podium in sight 
The Red Bull Ring is not traditionally stingy when it comes to overtaking. The Austrian venue kept its promises by offering two very hectic first laps. Despite a good start, Anthoine rubbed up against some rough opponents and broke into the bitter fights of Formula 2. He was in 5th place when it came time to take his mandatory tire change and he returned to the track in a strong position, picking up a place and taking the fight to the leader of the championship, Nyck de Vries, who was in third. Unfortunately, he lost out on the 3rd step of the podium by a mere 3 tenths of a second.
« The first race was hot. I did not close the door enough and this is a common and necessary practice in Formula 2. So, in the fight, it was not easy to keep the tires alive. For the first time this year, our pit stop was very efficient and it relaunched me. All the team's hard work is paying off and it's rewarding. I did not come back out on track in the middle of traffic and I was able to adopt a good pace while managing the tires. I missed a chance to overtake de Vries whose tires were dead! ».
Race 1
| | | |
| --- | --- | --- |
| | 1. | Nobuharu Matsushita (Carlin) les 40 tours en 53:32.606 |
| | 2. | Luca Ghiotto (UNI-Virtuosi Racing) + 2.963 |
| | 3. | Nyck De Vries (ART Grand Prix) + 10.428 |
| | 4. | Anthoine Hubert (HWA Arden) 10.786 |
Fender-bender
The Austrian weekend ended in a fishtail for Anthoine. The move one of his opponents put on him in the sprint race, weakened his front wing. Losing balance and grip, Anthoine's car ate his tires and he plunged into the depths of the ranking without being able to defend himself.
« I'm disappointed that a good weekend ended this way. I missed my race: I was not aggressive enough on the track and I have to work on that to get stronger in this area. This is the norm in F2 and I have never had a problem in defending myself during my career, so I'm not worried, but I must find the 'racer's' soul back again. In addition to that, I forgot to select the correct engine mapping before the start and my rear tires suffered. Nevertheless, I remember two very positive points from the weekend: qualifying and the pit stop. We have to do the same at Silverstone in two weeks time! ».
Race 2
| | | |
| --- | --- | --- |
| | 1. | Sérgio Sette Câmara (DAMS) les 28 tours en 38:45.691 |
| | 2. | Luca Ghiotto (UNI-Virtuosi Racing) + 0.563 |
| | 3. | Nyck De Vries (ART Grand Prix) + 5.536 |
| | | ... |
| | 17. | Anthoine Hubert (HWA Arden) + 24.057 |
Championship
| | | |
| --- | --- | --- |
| | 1. | Nyck De Vries 152 |
| | 2. | Nicholas Latifi 115 |
| | 3. | Sérgio Sette Câmara 107 |
| | | ... |
| | 7. | Anthoine Hubert 77 |