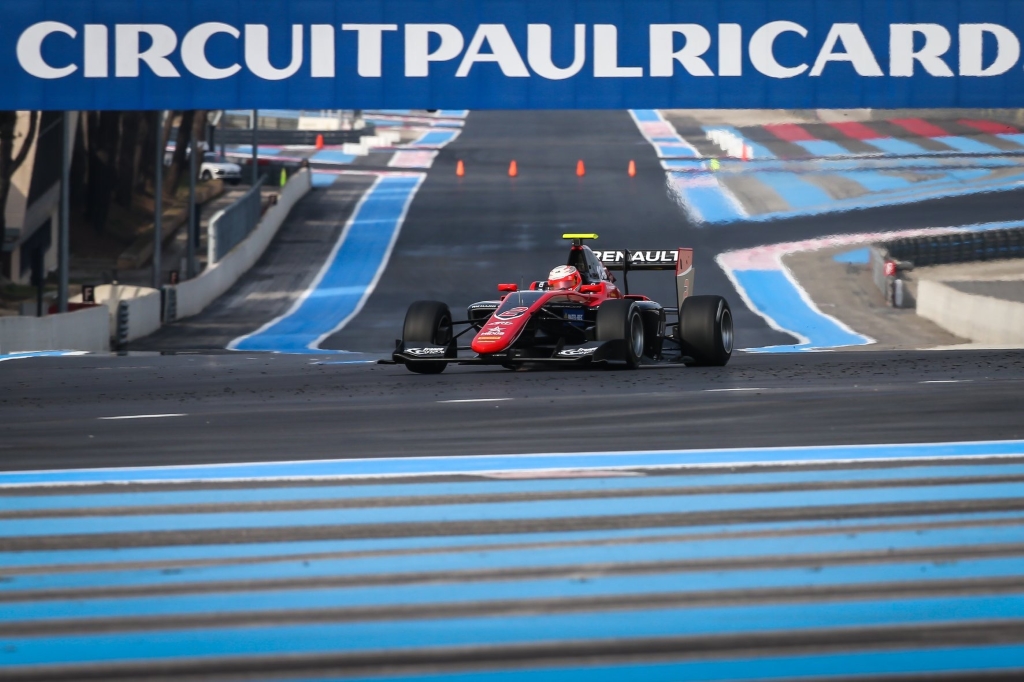 © Dutch Photo Agency
Anthoine came to France as a leader
A month after his « tir groupé » on the second step of the podium of Barcelona, Anthoine came on the Paul Ricard track as the leader of the GP3. It was a first and historic experience for the GP3 and that had never happened at the Castellet during a competition. Anthoine rejoiced driven in front of his public and he never lost sight of his objectives.
« I'm proud of my beginning of the Barcelonian Championship. We validated our project, which was to fight for the title, and so we had to reiterate the experience at the Paul Ricard. »
, Anthoine explained,
« We will be supported by the public, there will be a big media exposure and a lot of animations outside the track. We must ensure that festivities are also on the track ! »
.
La Marseillaise at the Ricard
In the past, the young French pilot knew success on this track. He won two pole positions and as many victories in F4. Throughout the wintry trials, Anthoine also tried to look his best at the Paul Ricard track.
« But the setting was very different from those we'll have to adopt next weekend, »
, Anthoine warns.
« Indeed, it was colder. We won't start from a blank sheet, but a lot of parameters will need an updating. »
.What will happen to the GP3 leaders on this track ? La Marseillaise at the Ricard would not displease the Frenchman.
« To win my first victory on my lands would be fabulous ! »
Anthoine admits,
« I don't want to think too much about it, I stay focused and if I can succeed end to end, the result should be there, because the car, the team and I were in a position of strength since last winter. »
.
Ask for the programme !
The two French races will be broadcast live on Canal + Sport.All the weekend may be watching on live timing on :
http://www.gp3series.com/Live-Timing
Schedules :
Friday
Free trials : 10:25 am (45 minutes)
Qualifications : 6:50 pm (30 minutes)
Saturday
Race 1: 11:30 am (20 laps)
Sunday
Race 2: 10:50 am (15 laps)