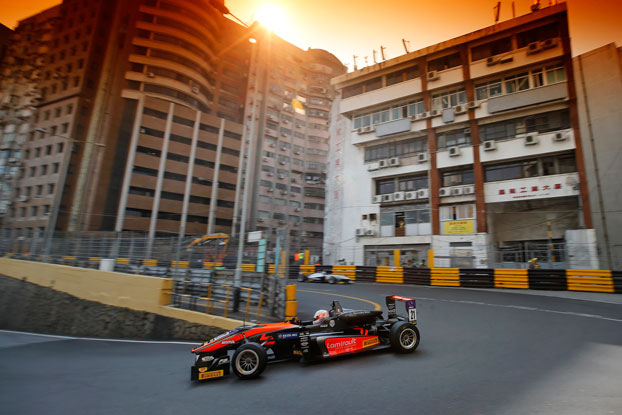 Arrived on the Monday before the trial, Anthoine and the team VAR could acclimatize to time differences and preparing single-seater cars. The exploration of the track was scheduled with the traditional lap on foot.
The format of this FIA-F3 World Cup was slightly different from the one known in European Championship during this season because Thursday and Friday were each composed by a session of free trials and a qualifying session. The best time of the two qualifying sessions for each driver was used to determine the start order of the Saturday Qualifying Race. After an effective apprenticeship of the track during the first sessions while Anthoine was each time ranked amongst in the top 15, the second qualifying session has been stopped many times by the race exit of some competitors, what prevented him to improve his time and his position, forcing him to be "satisfied" with a 14th place for the start of the Qualifying Race.
The start of this race has been good since, after some foot, he was already ranked at the 12th place. Unfortunately, two turns later, trying to carry on his catching up, Anthoine made a mistake and hit the wall. Thus, this was the end of the race for the car number 21 of the Van Amersfoort Racing team, what was a synonym of last place on the Sunday Grand Prix start grid.
His goal was then to catch up with the maximum in the hierarchy and to show that this mistake on Saturday certainly does not detract from his performance. After 15 laps, Anthoine overtook not less than 14 drivers to finish with an honourable 13th position.
"The Sunday race was good and can leave some regrets as for my mistake on Saturday. On one side, I firstly take this as apprenticeship. Macao being one of the hardest races in the world, I took a lot of pleasure this weekend and I think this experience is really beneficial for the future! I hope I can go back there in the future."