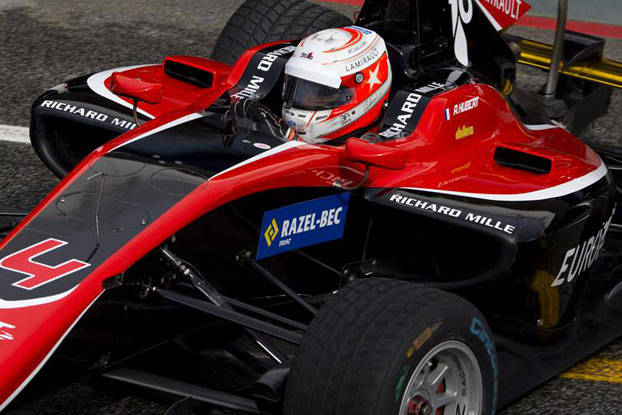 Back-to-school
After a long winter break, Anthoine looked forward to put on his helmet and gloves and to slip in his Dallara from GP3 for the first time in the last three months. Chassis, breaks, DRH (overtaking support by the rear spoiler uplift), and Pirelli tyres, Anthoine has everything to learn in a very high category which occur in Formula 1 curtains up. "After a long winter, it was good to rediscover sensations and the first laps have been a relief!" says Anthoine. "It's the first time I drove in Estoril. It's a legendary track which didn't really evolve. It was nice to drive on a vintage track to switch from the high tech tracks we will drive on while the Championship! The track is quite bumpy, we know that time has taken its toll on it, but the experience pleased me".
A wet premiere
In Portugal, the driver of the ART Grand Prix team methodically progressed despite the capricious weather conditions, with an alternation rain/clears, on the both days of rolling. "The bad side of the track is its closeness to the sea. Thus, meteorological conditions were complicated with constant variations. For a restart, it was not ideal conditions, » regrets Anthoine.
Lucid objective
With only one day of rolling at the wheel of the Dallara with Mecachrome engine, last November on the track of Yas Marina, Anthoine's first objective was to master his car and to work in symbiosis with ART Grand Prix. "The first goal was to gain experience, then to start preparing the season, to apprehend the technical innovation of the car, the DRS, because it could change the facts. I didn't have any clock nor position objectives".
High potential
At the end of the two trial days, Anthoine well progressed on the technical and human plans. Fourth in the hierarchy in the first day on a dry track, the next day, Anthoine was the second swiftest driver under the rain. Estoril will be useful for the next trials which would take place in Barcelona, on 19 and 20 April. "The objectives have been reached, but the weather prevented us to do a race simulation. On the personal level, I have to learn to heat and exploit the tyres better; they are the key for success in GP3. Overall, this restart has been beneficial and showed us our great potential," Anthoine concluded.