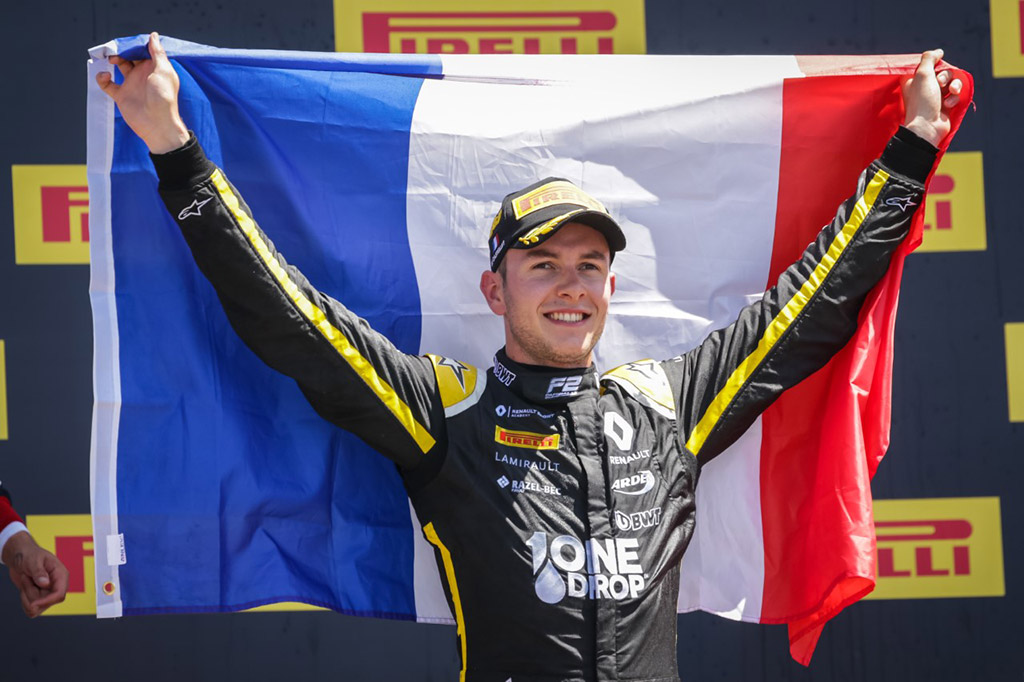 © Dutch Photo Agency
Notice of storm
Only a month after his resounding victory on the Monaco circuit, Anthoine played with the summits at the foot of the Sainte-Baume Mountain, winning his second victory of the season in front of his home fans at the Paul Ricard Circuit in France.
Success, however, struggled to emerge over the weekend. Free practice saw the French rookie reliving his first days of his partnership with HWA Arden last winter, when his new car was twitchy and refused to give him any grip.
« I did not have any grip and we didn't have any rhythm. In qualifying, an engine problem prevented me from having a second run, but I couldn't have done much better anyway. Just like during the winter season, I was under the impression that I had done a pretty good lap, but I had no grip and I found myself very far behind the leaders. I knew that this was not the end of the story however, because we are generally better in race trim, but still it was necessary to find more performance ».
Free practice
| | | |
| --- | --- | --- |
| | 1. | Sérgio Sette Câmara (DAMS) 1:44.009 |
| | 2. | Nyck De Vries (ART Grand Prix) 1:44.609 |
| | 3. | Luca Ghiotto (UNI-Virtuosi Racing) 1:44.669 |
| | | ... |
| | 18. | Anthoine Hubert (HWA Arden) 1:46.043 |
Qualifying
| | | |
| --- | --- | --- |
| | 1. | Sérgio Sette Câmara (DAMS) 1:43.024 |
| | 2. | Guan Yu Zhou (UNI-Virtuosi Racing) 1:43.344 |
| | 3. | Jack Aitken (Campos Racing) 1:43.401 |
| | | ... |
| | 15. | Anthoine Hubert (HWA Arden) 1:44.612 |
Copy and paste of Monaco
Chaotic and marked by several incidents, the first lap of the feature race caused a red flag while Anthoine was up to 11th place. After a re-start, taken behind the safety car, Anthoine rolled out his strategy- which saw a late pitstop two-thirds into the race. But, losing precious time when changing tires, HWA Arden complicated Anthoine's task by losing him roughly 4 extra seconds, and sent him back out on track in tenth place. >From there he worked his way up to 8th, a position synonymous with pole position for the sprint race. The beautiful story we witnessed in Monaco was repeated…
« As we have done a lot this year, we lost about 4 seconds in the pits. In addition, my radio worked really badly and I was not sure of my position... but I felt that there was a good shot to play for 8th and I gave everything I could to catch the drivers who were in front of me. It was hot and it was a case of quit or do the double, because between 8th and 9th place, there is a huge difference in terms of prospects for a weekend in F2! ».
Race 1
| | | |
| --- | --- | --- |
| | 1. | Nyck De Vries (ART Grand Prix) les 30 tours en 1:15:35.425 |
| | 2. | Sérgio Sette Câmara (DAMS) +8.388 |
| | 3. | Jack Aitken (Campos Racing) +9.775 |
| | | ... |
| | 8. | Anthoine Hubert (HWA Arden) +29.959 |
Avalanche warning
The sprint race confirmed the brilliance of Monegasque history with a victory for Anthoine, who never lost control from the moment the lights went out to the checkered flag. His start was perfect and one that allowed him to take the lead and approach the opening kilometers of the event with ease. Then he slowly but surely drove out of DRS range of the chasing pack and controlled the two-second lead he had over his closest pursuer. At the end of 21 laps, Anthoine won his second victory of the season and with it an avalanche of records. He is now the rookie who has led the most race laps (71), has a total of 65 points on the evening of the Castellet event while HWA Arden scored just 58 in all of last season, he has scored 100% of the points in his team and is the only rookie to be on the top step of the podium. The icing on the cake, Anthoine has twice beaten his record from 0 to 100 km/h at Le Castellet.
« In Monaco, I was asked if it was the best place to secure my first win and I said that Castellet would have been very nice too ... there is no difference, I won at two rounds where I was most eager to do so! This victory is very rewarding in terms of management, performance and control. I managed my two-second lead by responding to Correa as quickly as he tried to get back on me. I tried to secure the fastest lap of the race too, but when Matsushita took it from me, I preferred not to take any chances because a mistake can easily jump in your face without warning at Le Castellet. The greatest pride comes from our ability to turn things around when the weekend started off so poorly. We worked well as a team and to finish with a win and 19 points when we were at the lower end of the pecking order on Friday night, it's fantastic and it shows how great everyone is working together ».
Race 2
| | | |
| --- | --- | --- |
| | 1. | Anthoine Hubert (HWA Arden) les 21 tours en 37:19.524 |
| | 2. | Juan Manuel Correa (Charouz Racing System) +2.202 |
| | 3. | Guan Yu Zhou (UNI-Virtuosi Racing) +4.220 |
Championship
| | | |
| --- | --- | --- |
| | 1. | Nyck De Vries 121 |
| | 2. | Nicholas Latifi 109 |
| | 3. | Jack Aitken 85 |
| | | ... |
| | 7. | Anthoine Hubert 65 |