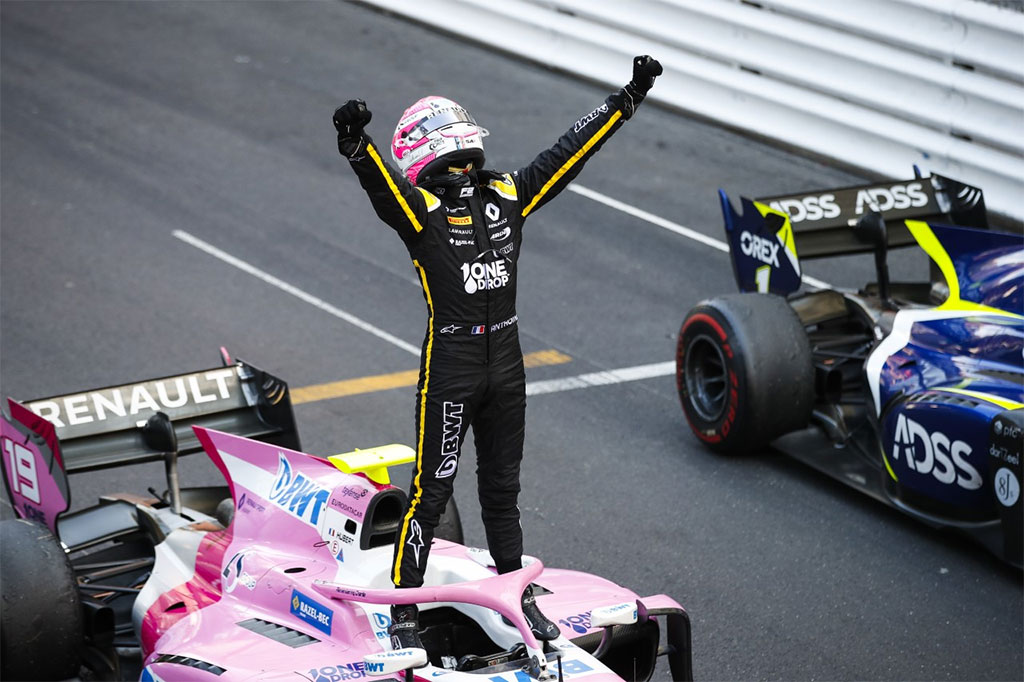 © Dutch Photo Agency
Best qualifying of the season
Anthoine Hubert has realized every driver's dream by etching his name on the winners list of one of the most prestigious races in the world of motorsport, Monaco. Starting from pole position in the Formula 2 sprint race, the Frenchman led from start to finish, heroically resisting every challenge his rivals threw at him. As a result, Anthoine became the first rookie to win a race in the 2019 season.
Anthoine built his success by firstly finding the best pace in free practice, despite having to take the time to learn the Monaco circuit and its countless traps that catch drivers out along the 3.337 km street layout. His efforts didn't go unrewarded however as he stayed in the top 10. In qualifying, he remained up with the leaders again, setting the fourth best time in his group, which earned him 7th place on the starting grid overall, his best result in Formula 2 qualifying.
"I worked well with Renault, HWA and Arden to learn the circuit and know what to expect, but I admit that those first laps, it hit me in the face! But what a pleasure it was! I don't think I have ever had as much fun as I did in this round of qualifying, especially as it ended with my best qualifying the year, something that has, until now, been our weak point".
Free practice
| | | |
| --- | --- | --- |
| | 1. | Nicholas Latifi (DAMS) 1:21.887 |
| | 2. | Nyck De Vries (ART Grand Prix) 1:22.001 |
| | 3. | Luca Ghiotto (UNI-Virtuosi Racing) 1:22.327 |
| | | ... |
| | 10. | Anthoine Hubert (HWA Arden) 1:23.167 |
Qualifying - Group A
| | | |
| --- | --- | --- |
| | 1. | Callum Ilott (Sauber Junior Team by Charouz) 1:21.462 |
| | 2. | Mick Schumacher (PREMA Racing) 1:21.469 |
| | 3. | Sérgio Sette Câmara (DAMS) 1:21.537 |
| | 4. | Anthoine Hubert (HWA Arden) 1:21.675 |
Points and pole position
7th on the grid after the joining of both qualifying groups, Anthoine took advantage of Callum Ilott's retirement at the beginning of race 1 and with a quick start of his own, he was up into 4th place by Sainte Dévote. Overtaken by Mick Schumacher, he stayed 5th until his pit stop on lap 8. Unfortunately, his stop took longer than normal and Anthoine came back out in 14th place with a lot of his rivals still needing to change tires.
However, an accident between Calderon and Schumacher at La Rascasse which blocked the track, ruined the chances of the drivers trapped behind them who ended up one lap behind the top 8 that were ahead of the crash. After a break of half an hour while the marshals cleared the track, the race resumed and Anthoine began his recovery back to 8th place, giving him 4 points and pole position for race two. This is because of the rule that reverses the top 8 from race one to establish the grid for the second.
"On paper, being 4th in the first corner, I should have had a much better result! But the red flag affected our strategy and we knew we had no chance of aiming for the podium that seemed to be within our reach at the beginning of the race. So, I focused on 8th place instead and it was greatly satisfying to get the reverse pole because it means a lot in Monaco where it is so difficult to overtake".
Race 1
| | | |
| --- | --- | --- |
| | 1. | Nyck De Vries (ART Grand Prix) 46 laps in 1:30:56.153 |
| | 2. | Nobuharu Matsushita (Carlin) +4.046 |
| | 3. | Sérgio Sette Câmara (DAMS) +5.470 |
| | | ... |
| | 8. | Anthoine Hubert (HWA Arden) + 1 lap |
Victory !
By leading at Sainte Devote after the lights went out, Anthoine achieved the first step towards winning in Monaco. Despite several interruptions from the safety car, he held station against his opponents by opening up a gap of more than one second for most of the event. In the final laps, his tires worn by the pace necessary to keep command of the race, Anthoine became under pressure from Louis Delétraz. Despite several anxious moments, including a massive snap of oversteer in the final corner, which Anthoine controlled masterfully, the young rookie from the Renault Driver Academy held firm and crossed the finish line 59 thousandths of a second ahead of Delétraz. Recording a Monaco victory is a rare success for a rookie and the points awarded for Anthoine's win have now strengthened his 7th place in the championship.
"The race was intense, especially at the end! I am very happy with this first victory, and even more so with it being in Monaco. I have to thank the team for the work they have done because everyone is working hard and it is paying off. I am very happy that we can share great moments like this victory. In the end, it was very hot, I lost the back end twice. But I knew that the victory was mine because it is very difficult to overtake in Monaco. Louis was almost there and my engineer was close to having a heart attack!".
Race 2
| | | |
| --- | --- | --- |
| | 1. | Anthoine Hubert (HWA Arden) |
| | 2. | Louis Delétraz (Carlin) +0.059 |
| | 3. | Guan Yu Zhou (UNI-Virtuosi Racing) +0.922 |
Championship
| | | |
| --- | --- | --- |
| | 1. | Nicholas Latifi 95 |
| | 2. | Nyck De Vries 94 |
| | 3. | Luca Ghiotto 67 |
| | | ... |
| | 7. | Anthoine Hubert 46 |