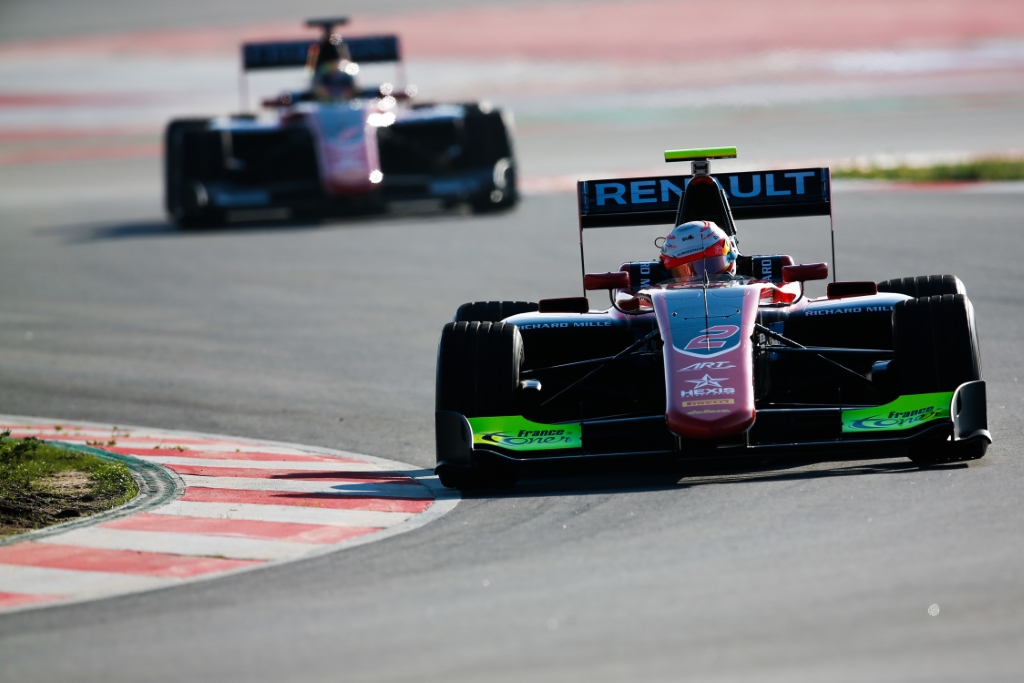 © GP3 Media Service
On 17 and 18 April, Anthoine Hubert competed in the last mid-season trials of the GP3 championship that will take place this year again at the beginning of the Formula 1. The young man won the best time of the Catalan week.
All-Terrain GP3
Anthoine Hubert and his GP3 team, Art Grand Prix, made the last revisions of the mid season before the big examination of Barcelona, which will welcome the first round of the championship, from 11 to 13 May. But the Rallycross world championship, the turbulent child of the motor racing, disturbed Anthoine's first day of work. « They rode on the track two days before us and the road was impracticable », Anthoine says. « In the morning, we could only drive with rain tyres, to try and clean up the track while we were checking all was well in the car. It delayed our programme. »
In the afternoon, Anthoine was on the right track on a road finally accessible to performers. He won the 3rd place while he was losing control of his car. « For the first time in my GP3 career… I wanted to show off in a very fast turn that would never forgive the slightest variation. It was very frustrating for the team because the car was very damaged ! »
Assessment GP3 with honors
On the next day, Anthoine was back behind his GP3 wheel with composure and determination to avenge the affront of the day before with the best time of the Catalan week. « The qualifying simulations met our expectations and I dedicate my first place to my team who worked all night ! » Anthoine smiles. In the afternoon, the race simulations were also very productive. Anthoine concluded the wintry trials in major promotion in Barcelona as in the Castellet and on the first day in Jerez.
The Frenchman holds a GP3 assessment with honors, but he remains careful before the first race weekend of the year. « In three weeks, it will be very different. It will be the same track and the same opponents, but we'll have to anticipate the track's evolution and observe the right information very quickly after a tens of free trial laps to be number one in qualifications and in the race. We developed a solid knowledge, now we have to do our duty and to analyze the data before May 11», Anthoine concludes.